Delville Wood Cemetery
The graves of 3 men of Ulverston can be found at Delville Wood Cemetery in the Somme in France. Delville Wood was the scene of heavy fighting in the Battle for Longueval Ridge in 1916 and again in 1918. Delville Wood is also the location of the South African National Memorial.
The Commonwealth War Graves Commission website also has information on the Deville Wood Cemetery.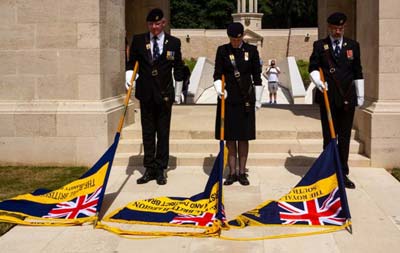 The Bransty, Ulverston and South Africa Royal British Legion branch standards are dipped for the Last Post at the Delville Wood Cemetery, with standard bearers Rod Eglin, Janet Eglin and Graeme Scott.